Good knowledge of any object-oriented language or basic UML knowledge is required.
OCUP2 Content Developer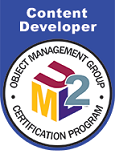 NobleProg has official OMG OCUP 2 Content Developer status, which means that our course outlines and training materials were developed by the same experts who prepared questions for OCUP 2 exams.
Audience
Developers, programmers, business analysts, project managers, software architects, testers, people responsible for documentation or anyone involved in the software development process.
Objectives
Prepares you to work with the most commonly encountered UML elements
Teaches you how to create simple UML models
Prepares you to be a member of a UML Development Team